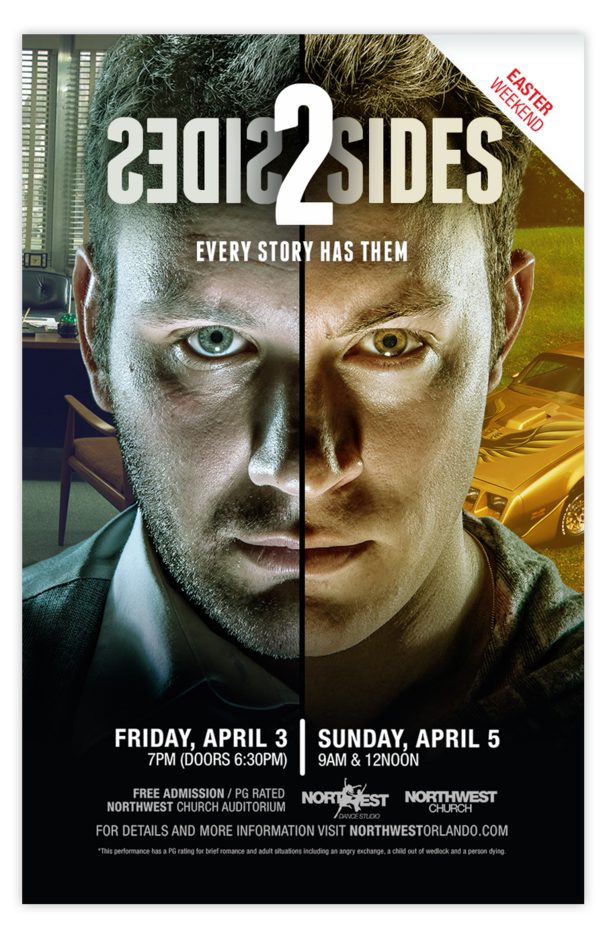 ---
COST
Free!
---
RATING
PG for brief romance and adult situations including a child out of wedlock and person dying.
Summary
From Northwest Dance Studio comes 2 Sides, an original musical dance performance starring Nate Moreno, Brandon Lonza, Kayla LaGasse and Sarah Swindell with original music by Northwest recording artists Peter Brunton, Jared Evans, Wesley Boyce, Gary White and Mark Matuszek.
As a father and his young adult son struggle to understand each other, they each receive life-altering news. The men are hurled into the crux of devastation and difficulty when unresolved issues in their troubled relationship come to a head. While they separately retrace their heartbreaks and disappointments, each wonders if they will ever find a way back to each other.
The live performance will showcase a wide array of dance styles from a graceful waltz to a harmonious fusion of contemporary with energetic twists to the electrifying rhythm of hip hop. Northwest Dance Company and student performers will enthrall with dazzling choreography amid unique multimedia backdrops and rotating stage scenery. "2 Sides" features both popular and original music written and recorded at Northwest's private recording studio that ranges from orchestral to classic rock to hip hop, with captivating melodies are equally heartbreaking and redemptive.
2 Sides is an exclusive production by Northwest Dance Studio. This performance has a PG rating for brief romance and adult situations including an angry exchange, a child out of wedlock and a person dying.
Video Teaser
Event Images