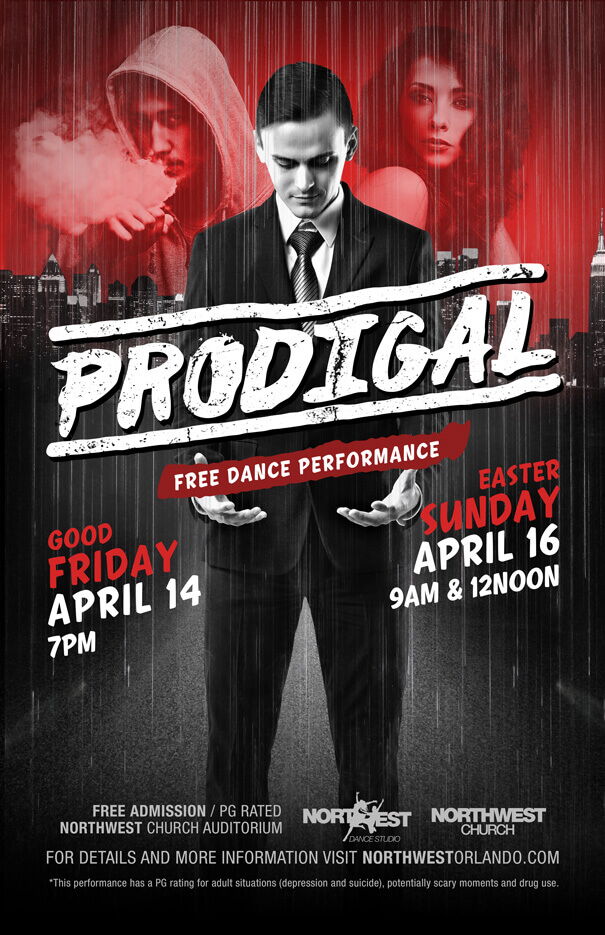 ---
COST
Free Admission
---
RATING
PARENTS, PLEASE NOTE: This performance is rated PG for scenes including depression, suicide, scary moments and drug use. Our Nursery (ages 0-4 years) and NorthwestKIDS (ages 5-12 years) will be available during the Sunday performances only, where children will have fun games, meet new friends and learn the exciting meaning of Easter.
Summary
This Easter, ascend into a journey of self-discovery in Prodigal, a unique and compelling dance performance by Northwest Dance Company. A full-sensory live experience, Prodigal combines contemporary and jazz dance styles, unusual choreography, video vignettes, unique props, and interactive elements. Former principal dancer of Orlando Ballet, David Kiyak, plays the lead role of the Prodigal Son in this parable of how the extravagant love of a father can overcome the most hopeless of circumstances.
The Prodigal's adventure begins as new friends lead him to strange and exciting worlds, where enticing thrills eventually expose a darker side, ultimately taking a turn for the worse. He begins to see the brokenness in his life and yearns to return to the peace and safety of home. But after the terrible way he treated his father and running off, how can he face him? Would he ever be able to come home? Prodigal is a story we can all relate to--in fact, it's the story we all long for, where we are welcomed home no matter where we've been.