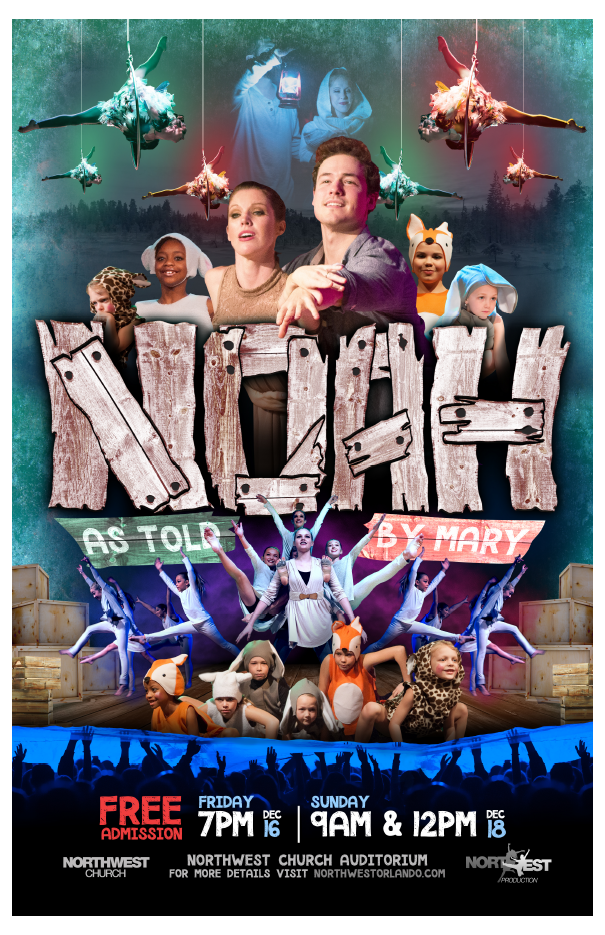 ---
COST
Free!
---
RATING
PG rating for ominous moments and fighting.
Summary
This December, bring your family to an incredible live experience entitled NOAH: As Told By Mary, a unique Christmas twist on a familiar tale. Blending a myriad of dance styles, aerial acrobatics, larger-than-life props, and elements that flow off the stage, NOAH is a Christmas show like no other. Opening with Mother Mary and her newborn son Jesus surrounded by curious little ones, Mary tells them (and us) a bedtime tale of a giant flood and the very first rescue.
Starring David Kiyak, formerly a principal dancer of the Orlando Ballet, and performances by the Northwest Dance Company and Northwest Jr. Dance Company, this unusual Christmas-themed performance tells its story with an eclectic mix of dance styles that range from high-flying aerial acrobatics to ground-shaking hip-hop with contemporary, jazz, tap & more. The show features both contemporary and original music written and recorded at the Northwest Recording Studio, combining a number of musical styles that engage emotions in ways that pure visuals cannot. NOAH is a triumphant epic that will usher your family into the true Christmas spirit. It's the can't-miss live show of the season!
Free General Admission


No reserved seating is required; attendees are seated on a first come, first serve basis. NOAH: As Told By Mary is open to the entire family; however, please note it has a PG rating for ominous moments and fighting. Free nursery and childcare (up to age 5) are available during the Sunday performances.
About Northwest Dance Studio


Founded in 2005, Northwest Dance Studio Orlando's mission is to offer an opportunity for kids and adults to build self-esteem and confidence through the art of dance. Founder and director Sarah Swindell brings her more than 15 years of professional dance experience to give the studio's students, mostly children and teens, the opportunity to learn multiple forms of dance and perform on a stage – an opportunity many would otherwise miss during childhood. NDS provides a safe and positive environment, instilling performance quality and passion in their students. The Studio has grown to include a variety of genres including ballet, hip-hop, contemporary, aerial silks, lyra hoops, jazz, tap, tumbling and pilates.
About Northwest Church


Northwest Church is a passionate-for-Christ community of all ages and all walks of life. With multiple Sunday services at 9am, 10:30am and 12pm, NWC also holds a myriad of classes, conferences, events and small groups, focusing on the needs of their congregation and serving in as many capacities as possible.